Welcome to KTH Entré
KTH Entré is a central meeting point for service and information on campus. At KTH Entré employees can get help with IT-support, book the Entré hall for events, buy KTH branded products and parking tickets etc.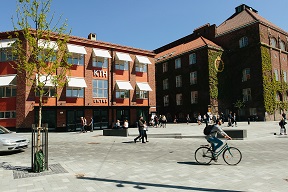 Visit and opening hours
Drottning Kristinas väg 4, 2nd floor
Ordinary opening hours: Monday-Friday 8.00-16.30
We can help you with following queries
Access card
All basic matters regarding access cards, like changing pin code, retrieving a new card or replacing a broken card, are taken care of in KTH Entré. More information can be found here
Book the Entré hall
Do you need a central location for your event? The Entré hall works well for both small and large events. More information can be found here
The school´s Service Centers
EECS and ITM schools have own service centers where you can get help with parcels, deliveries, catering, visitors and premises.