Spread your news
We are happy to write about your research, education or topics related to the University Administration.
We produce and publish your news on the school's intranet or external website . Internal communication's target group are the employees. External information is aimed at different target groups outside KTH and has a brand-building purpose.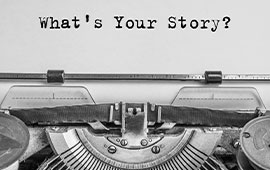 In the overall news feed on the external website and intranet, the published news has been judged to have a substantial news value and to be of interest to many people.
The communications unit is responsible for assessing news tips and producing the news, and creates news in the form of:
Articles with associated photography and image editing
Video for social media and/or web
How to reach out
Contact the communication unit at communication-support@eecs.kth.se and let us know about your news; it could be, for example, a new process at the university administration, research impact or an educational project you want to share.
The communications unit then assesses whether your tip has news value relevant to the target audiences. A communicator will get back to you and present a concept.
Following the agreed concept, we produce your news according to KTH's Swedish and English guidelines, which you may comment on and approve before publication.
Whether the target group is internal or external, the news is published on the intranet or the external web.
The communication unit then spreads the news. For example, in the pEECS newsletter, Slack, LinkedIn or Facebook. You are recommended to spread the news via e-mail, social media or other forums in your network.
Examples of internal vs external news
Here are some examples of what constitutes internal vs external news.
Internal news
The news is internal if it concerns internal processes, decisions, management communication, internal events or the University administration.
Get to know Stefan at the Infrastructure and service unit
The President visited Kista – this is what he learned
An update from the Head of School
Sara Johansson appointed new Deputy Head of Administration at EECS
External news
An external piece of news should aim to recruit new students, communicate EECS' research and research benefits, and show KTH as an attractive workplace.
Swedish Microwave Days offers unique possibilities
Johan designs next-generation mobile networks
Scalable Production of Spider Silk Nanowires
Earlier diagnosis of cancer with Lucky Loop
Students given a crash course in disaster medicine
Target groups
Internal
Researchers and doctoral students
Staff at the University administration​
Teaching staff.
External
Researchers
Prospective students
The industry
Financiers
Society in general.
Spread your research
Making your research results visible in other channels than scientific journals, means that more people can come into contact with the research. You thereby increase the chances of more people reading, discussing and sharing your articles.