Transcript in KTH Play
Captioned videos can be made more accessible by activating Transcript in KTH Play. It will automatically generate a searchable text version of a captioned video in a text box beside the video. The widget can also be embedded on the web with Polopoly or in Canvas.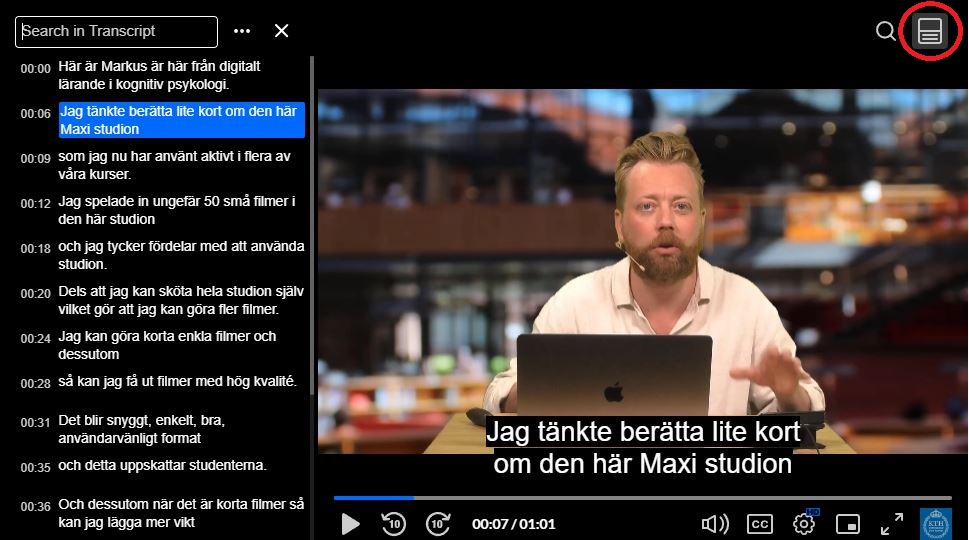 Automatic text version of captioned video
With the Transcript function in KTH Play, a text version/transcription of a captioned video is created automatically, i.e. all captions are placed in a text box beside the video player. This feature makes videos searchable, increases accessibility and simplifies for those who only want to watch parts of the video.
In order to open the text version, click on the icon in the upper right corner.
Note! Transcript only works on already captioned videos as it has no speech-to-text feature. If you want to edit what is in the text version, you need to edit the captions.
How to get a transcript from your subtitled video
Read more about Transcript under the following headings:
Navigation and search function
Embedding Player, on the web or in Canvas
Download and print
Navigation and search function
When the video is playing, the active caption is continuously highlighted in the text box beside the video. If the text version is longer than the text box, the text box will automatically scroll down to keep the active caption in the middle.
By clicking in the text box, you select a caption and navigate to the related time in the video for the selected caption. Transcript also has a simple search function that marks search results in blue. However, the search function will not navigate to the search results or show how many search results have been found; you will have to scroll through the text version and look for yellow markings.
Tip! The search function consider full stops as wildcards, i.e. they could be any symbol. Instead of searching for e.g. "rat", "cat", and "bat" separately, you can search for ".at" and find them all at the same time. However, you may still need to sift through the results as this will also find the words "hat", "mat", and "that".
Embedding Transcript, on the web or in Canvas
When you want to use a video from KTH Play, you insert it as a link in Polopoly or Canvas.
When you are at the video in KTH Play, click on the "Share" tab and select the "Embed" sub-tab.

Choose one of three sizes.
Then copy all the text in the text box and navigate to the page where you want to embed it. Polopoly recommends using an HTML block (page in Swedish) while there is a guide to embedding videos in Canvas .
Download and print
You can also download the text version to your computer as a txt file or print it. You will find three dots next to the search field. You can choose Download or Print.