Security at KTH a balancing act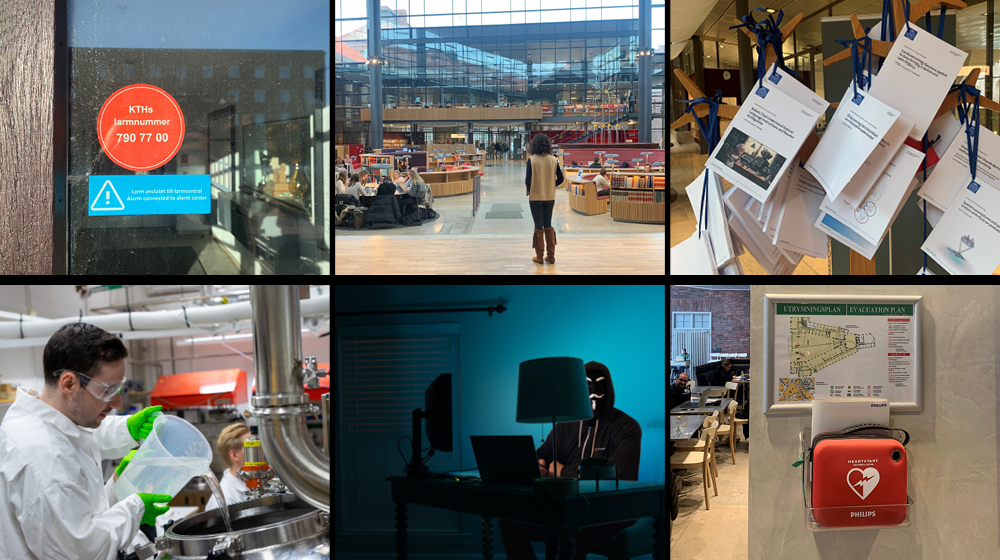 Published Feb 22, 2023
An explosion in KTH's entrance at campus Kista, routines to protect our research results from theft, break-ins, and security analyses – consultant Elias Tapper's year at KTH has been varied. Improving KTH's security will take time, says the resigning head of security and safety.
Perhaps it's the tense global situation and a harsher social climate: spy balloons, hacker attacks, NATO membership, and war in a country close to us. During his year at KTH, Elias Tapper, acting head of security and safety, noted that his topics engage and awaken interest. He has met all the school management, and he is grateful for the understanding of the issues he is so passionate about. Soon there will be a change of leadership at his quarter; a new permanent security manager is on her way, and she will not only take over but put another new gear into the job that Elias has started.
"We have a lot to address regarding security at KTH, and there is a lot of potential for improvement. We must take the issues very seriously. We don't talk about threats very often at KTH, and in one way, that's good: it's my job to handle security issues so that others can focus on education and research. But we mustn't be naive, but aware that the threats exist. At KTH, we have technology at the forefront, and some actors want to access our knowledge and research. We are at the forefront of technology development, which attracts interest, mainly positive, but also from those with bad intentions," Tapper says.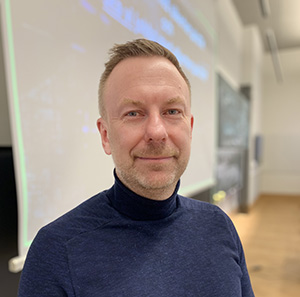 Many areas to cover
He has long experience in the security sector, the Swedish defense university, Fortify, RISE, the military security service, and FRA (the National Defence Radio Establishment). At KTH, Elias Tapper has a wide variety of subjects to attend to lab safety, radiation safety, physical safety, safety culture, travel safety, safety analyses, personal safety, and information safety.
Perhaps KTH's most significant challenge from a security manager's point of view is the openness of academia versus the vulnerability of research. It's a delicate balancing act, explains Elias Tapper: on the one hand, research must be free, and it must be possible to check sources and control it; on the other hand, there must be security and routines so that the results do not end up in the wrong hands.
"Security must never get in the way of research. Much of my work is about protecting the research so it belongs to the correct person. We don't want someone to steal and patent what a researcher may have devoted a career and his entire working life to."
Challenges in a changing world
In the media, there's been a recent discussion about students and researchers from other countries as a security risk. Elias Tapper says that The Swedish Security service specifically mentions three countries that conduct illegal intelligence activities in Sweden (China, Iran, and Russia). Some universities have taken measures against this, and KTH needs to deal with the challenge.
"I don't think it is right to single out individual countries, and above all not individuals, but we must be aware that it is problematic and challenging in some cases. And above all, we must follow the authorities' recommendations, which we do."
Safety in our work and study environments is also important. When a bomb detonated at the entrance to KTH's premises in Kista recently, the routines were tested.
"The explosion triggered our burglar alarm. Our guards were quickly on site and met the police. Shortly after that, the security group's personnel were on site. Together with staff from the EECS school and Akademiska Hus, a plan was made for the work to follow, and KTH's president and the university director were informed. The EECS school's crisis organization acted exemplary here."
Security guards patrol all KTH premises to create security and intervene when needed. There is a balancing act here, too - on the one hand, KTH wants to be as open as possible; on the other hand, we must be able to control who enters our premises.
"We have a problem with theft and vandalism, and we are working hard to overcome it."
Happy with the recruitment
Elias Tapper has also been involved in recruiting KTH's new head of security and safety, who starts her new position in April. Today's security group and its new manager will be upgraded to a department that reports to the university director.
"It is essential to move up in the hierarchy to get a mandate and enter different contexts more easily to become more efficient. Today, many people at KTH work with security aspects as part of their job, but they often feel alone. We'll change that by centralizing the work. In the future, we will work more together and act more proactively. It is crucial that we know each other and work together. 'Together' is the key here; my team cannot raise the security level on their own."
According to Tapper, security work at KTH has a long journey ahead of it, and it will require hard work from the new department.
"But I am delighted with this recruitment, the new security manager will not take the backseat - I can promise you that."
Text: Anna Gullers