Welcome to ITM School!
It is important that you have a good start as a new employee at ITM School. Here you will find an introduction, important links and courses that you can participate at KTH.
About the ITM School
The school consists of six departments located at Campus Valhallavägen and Campus Södertälje. The School Management , Communications Team , Financial Team , Human Resources Team , School's Office for Student Affairs and Service Center are located at Lindstedtsvägen 30. There is also a service center located in Södertälje.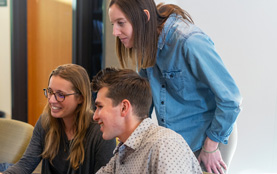 To-do list for new employees
So that you quickly become a part of us.
For all new employees
Read information for you who are new to KTH . Here you will find information about KTH's vision, KTH's organisation and personnel policy as well as the digital onboarding.

Enter information about next of kin in the self-reporting HR-plus .

Read about your employment . You will find information about employment conditions, benefits, working hours, work environment, leave and much more.
Create your profile page . Please e-mail infomaster@itm.kth.se ​​​​​​​ if you need a portrait of yourself.
Sign up for KTH's compulsory Environmental courses for employees and Basic course in fire prevention. Also sign up for the education on GDPR and other digital educations on, for example, communication and Canvas' learning platform. KTH's courses for employees (Swedish) .
Test your access card and key.
Ask your manager or supervisor what software and licenses need to be ordered.
To get a salary and a correct tax deduction
Moving to Sweden
If you move from abroad there are a few things to do before arriving in Sweden. KTH Relocation provides support to those who are new to Sweden.
Inform your manager when your travel preparations are complete and you can decide on your start day at KTH.
Your welcome folder with useful information
When you start at the ITM School, you receive a welcome folder with the following information: